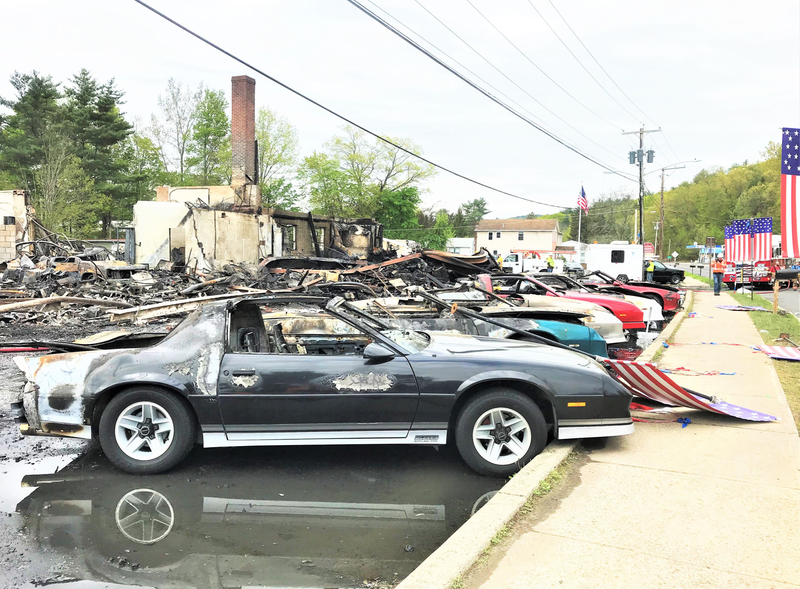 At approximately an hour past midnight on May 9th, the 613 Automotive Group in Ellenville, New York was completely engulfed in flames due to unknown causes.While the total loss of the dealership is a terrible thing under any circumstance, this particular property was converted into a period correct film set for an upcoming HBO mini-series called I Know This Is True. Set in the October of 1990, the dealership had been completely modified to match the time. According to Chris Busby, the general manager for 613 Automotive Group , the dealership is now considered a "total loss". The cars utilized for the set were a collection of almost 30 mint performance models from GM. Multiple Camaros, Corvettes, and special reproductions such as a reproduction 1990 Indy pace car were destroyed in the blaze. Sadly according to Jamie Kitman, the New York bureau Chief of Automobile Magazine who was responsible for delivering the cars to the set, one of the only vehicles to make it out unscathed was a Chevy Lumina APV.
Its easy to forget about the rest of the automotive memorabilia this fire consumed. According to Kitman, the dealership set contained original paperwork, marketing material, and everything you would expect to interact with at a GM dealership in October of 1990. Unfortunately like the Lumina minivan, no period correct GM sleazy salesmen were lost to the fire.
The cause of the fire is still unknown. The fire response was scaled up twice after the initial call resulting in a three alarm fire with a total of 15 fire crews responding to squash the blaze. HBO put out a statement that they have suspended filming and are attempting to re-site the production elsewhere. Thankfully, nobody was hurt in the fire. Its easy to write off these cars at first considering the 90s wasn't known as the high point in performance for GM. However, for these vehicles to be utilized in an HBO set they would have had to been in impeccable condition. For almost 30 years these 27 vehicles were maintained with the utmost care and responsibility and for a seemingly random fire to completely wipe them away is a shame. We all look back and cringe at how many 60's and 70's Chargers, mustangs, and Chevelles were destroyed to produce some of out favorite films and TV episodes. To lose 30 examples of pristine automotive history without any sort of benefit is a shame. Attached below is a video from KeyNews.TV taken by Andrew Tetreault. The intensity of the fire is evident.